Our first MVP that we want to show to the public
---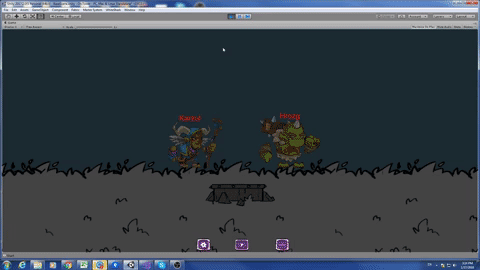 Hello! Let me start by saying that I am super excited to be a part of the game developer community and proudly say that being the father of two beautiful daughters and working 50 hour week shifts did not stop me from side hustling and making my first real game MVP. It has been a long road. I have started looking for professional, like-minded people (I myself worked as a software engineer and a product manager for quite some time) few years ago. It took me over a year just to find right people, who have same ambitions as me and want to work on game development but can only do it in their spare time. As you probably understand at my point in life I can not go all in, since I have kids that depend on my salary, so I had to find people who want to take it easy, yet do not slack and can work week after week. Let me point out that we do have sleepless nights and try to dedicate as much time to our game development as possible, and sometimes it is brutal - you have to love it there is not other way.
So our first idea was pretty standard - build a platformer games, that is all about orcs, humor and has some story to it. Sounds simple, right? Well after almost half a year of struggling, and just not getting a proper vibe from our attempts to make the game feel the way we want it to we have decided to switch gears, and develop a project that has a clear visible end to us. Thus came idea of Tower Smash.
We could not believe how fast we were moving with this project! Since we have planned to use a lot of assets that we have already created or purchased for our platformer game, development was very smooth. Also since every member of the team is on the same page already, we know what to expect from each other and what are our strongest and weakest sides.
After all, I just wanted to say take a look at what we got. Let me know if you are in the same boat as us, and also side hustle! Do not abandon your dreams and stay creative! Good luck.
Warmly,
WhiteShark Team
Files
DESKTOP1.0 build.rar
21 MB
Feb 28, 2018